In response to real and specific needs reported by our clients during the implementation of the EYESPERT system, we are constantly conducting research and development. Currently, we are focussing mainly on 4 projects:
PCP Project
A station for automatic visual control of the correctness of the choice of aluminium profiles to be used on the painting line or assembly line of composite profiles.
The system will check compliance with the pre-determined pattern, aluminium profile or manufactured assembly by computer analysis and image processing methods. If any irregularities are detected, visual and audible alarms will be activated. The system will work based on the indicated pattern, which may be a physical profile or composite profile as well as an electronic standard in the case of the device integration with the EYESPERT system.
CPoaP Project
a station for automatic visual counting of profiles on a pallet that generates a report with the result of counting and a preview of the pallet with marked counted items.
The device is designed to work in an industrial environment in a continuous mode. The EYESPERT software installed on the station counts the number of profiles in individual groups of shapes and searches for the most similar profiles to calculated profiles in the EYESPERT system database.
In the case of work in the loading control mode, the system will show deviations in the number and type of sections and mark problem areas on the preview after indicating the number and profiles that should be expected on the pallet.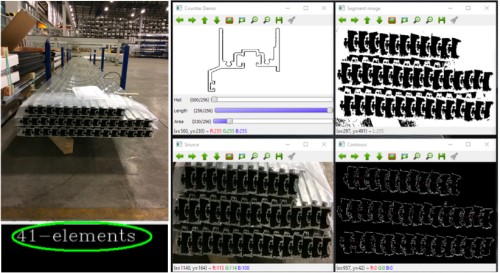 DSF Project
search by fragment
We want to extend the process of recognizing and finding similar shapes with the ability to search through any selected section of the profile. After defining a fragment of the profile, the application will find all other profiles in the database containing the specified pattern.
AE Project
estimating the surface of the profile based on the drawing
We are looking for the best and the most accurate method of estimating the surface of the profile only on the basis of a drawing from a client's query other than CAD files. We assume any method of image acquisition (graphic files, scan, hand-drawn sketch, email attachment, capture screen).